Star Apple Health & Nutrition Benefit
Star Apple Health Benefits
Star Apple is among the number of superfoods that cultivated in Jamaica West Indies. An Island in the Caribbean Sea.
Star Apple has numerous health benefits and active in the treatment of diarrhoea, high blood pressure, fever, and digestive issues.
Some Active Health Benefits of Star Apple
 Because Star Apple is rich in fibre which is mainly Carbohydrate, it helps to keep the digestive system healthy by overcoming constipation and other digestive issues.
Star Apple is a natural antioxidant that helps to remove oxidising damaging agents from the system of the body and keep the immune system robust.
Antioxidant-rich foods like Star Apple can prevent free radicals like Cancer and heart attack. Eating Star Apple moderate to regular (When in season) can help reduce dead cells by removing free radicals. Vitamins that are in the fruit produce collagen that promotes immune health.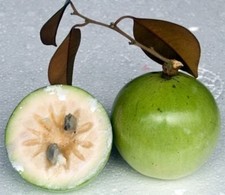 They also moderate the s le iron content allows the body to produce haemoglobin and prevents Anemia. Anaemia causes weakness, fatigue, dizziness, rapid heartbeat, loss of appetite, shortness of breath, and headache. Consuming foods which are high in iron like Star Apple can prevent all of the ailments as mentioned above.
You can follow the Link below to learn about Nutrition Benefits.
Bone Strengthener
Star Apple contained some essential Minerals that are good for maintaining healthy teeth and bones. Such as Phosphorous, and Calcium. Having these rich properties allows the regular eating of Star Apple to contributes to the strengthening of bones thus preventing bone diseases.
Weight Loss
Regular consumption of Star Apple helps in maintaining weight loss and promoting beauty and body health. Star Apple is low in fat and contains a large amount of dietary fibre that improves satiety; allowing weight loss.
Water Soluble Vitamin C which is essential in assisting body functions, gives protection to the heart, enhance vision, heals wounds, decreases blood sugar leaves, and improves immune health.
Our bodies cannot produce Vitamin C on its own. Therefore, Star Apple is a good source from which the essential Vitamin C. With its antioxidant properties that help in neutralising the harmful effects of free radicals and preventing fatal diseases such as heart disease and Cancer.
Star Apple is the best food for Diabetic patients because it controls blood sugar levels in the blood. Its fibre content keeps blood sugar levels under control. Its antioxidants protect the body sugar level in diabetic patients.
Because of the presence of Vitamin C and Carotene that are in Star Apple constant consumption endorse boosting immunity.
Your stomach to feel satisfied even after a long time. It is one of the most excellent fruits for
Against to treat Skin rash, Stomach pain and Diarrhea. While the Star Apple seeds are ground and maid into therefore suitable for those who are struggling to lose weight. Also, the rich Fiber content satisfies the Star App
stomach easily.
Herbal Drugs
Star Apple ointment is used to treat skin infections and virginal issues.
Control Vomiting
The eating of Star Apple controls vomiting. It is considered suitable for pregnant women to prevent the urge to vomit. Star Apple is good for pregnant women as it helps to combat many of the illnesses that provoke pregnant health issues such as Diabetes, Cancer and heart diseases.
One of the benefits of Star Apple is that it is low in Calories. One half of a Star Apple contains a minimum of sixty-seven calories. StarApple leaves and seeds as also the fruits are good herbal medicine that treats many health issues.
Boiled Star Apple leaves, and bark or sop is a treatment for diarrhoea, dysentery, Malaria and yellow fever. The leaves used for many ailments Such as indigestion, sore throat, constipation, nausea: fatigue and anaemia
Star Apple nutrients
Vitamin A
Vitamin C
Vitamin B3
Vitamin B2
Protein
Thiamin
Carbohydrates                                                      10.49 g
Moisture                                                                 73 g
Total Fat                                                                  2.49 g
Protein                                                                     6.99 g
Star Apple may contain
Vitamin C                                                                 25
Vitamin B3                                                               1.137 g
Vitamin B1                                                                0.049. mg
Vitamin B2                                                                 0.038 mg
Iron                                                                              0.49 g
Methionine, Lysine, Amino Acids, Riboflavin, Niacin, Dietary Fiber, Pantothenic Acid
Star Apple Nutrition
Nutrients                                                                Amount
Energy                                                                    91.09 Kcal
Total Dietary Fiber                                                     1.92 g
Protein                                                                          1.52 g
Phosphorous                                                                18.95 mg
Tryptophan                                                                   0.004 g
Lysine                                                                            0.022 g
Methionine                                                                   0.22 g
Calcium                                                                          12.35 mg
Star Apple Cultivation
Star Apple grows only in a tropical and subtropical climate. Star Apple cultivation starts from its seed; For germination to take place, the seeds are placed directly in the ground or a container with dirt. When the seedling grows to about a foot high; it is transferred to its home where it is planted into the ground. The seedling takes time to grow into maturity when it bears fruit.
That takes from ten years upwards. However, when the Young tree is grafted with stem from a bearing tree, the ingrafted branch can choose from one to two years to begin bearing fruit.
The botanical name for Star Apple is Chrysophyllumcainito. The fruit takes several months to mature and is always available from December to April. Star Apple are of two varieties.
Green Skin and Purple skin. The inside of the purple skin is of a lighter purple from the outside when ripe while the inside of the green coat is cream when ripe.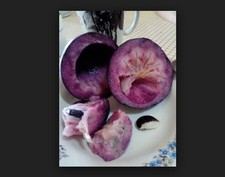 Star Apple is fairly juicy when ripe and of a mild sugary sweet taste. Unlike other fruits on trees Star Apple is not easy to reap, or harvest.
The fruit will never fall from its stem no matter how ripe it is. It chooses to stay on its stem and dry out causing the branch to die, but it will not fall by itself.
To get Star Apple to the market, some people cut the tree limbs to pick the fruit if the tree is on a slope. If not, they might climb the tree which is dangerous according to the height of the tree.
If you are brave and not too heavy, you might want to climb the tree to pick the fruit because of how delicious and nutritious the fruit is. You can find more Superfoods that are both good for food and Nutrition in some other article on this site.
Please leave your comment and questions below in the comment section. Thank you.