Nutrition Definition And More
In my article today I will give a brief account of something that I consider giving to you an insight of Nutrition Definition. And much more. We can agree that Nutrition is the science that interprets the interaction of nutrients and the other substances in food in relation to the maintenance of the human body.
Which involves: the food we eat, absorption, assimilation, biosynthesis, catabolism, and excretion, growth, reproduction, health, and disease.
Several recent studies have shown the superior ability of sweet potatoes to raise the level of vitamin A. This benefit could be particularly true, especially for children. Sweet potatoes may be one of natures unsurpassed source of Katacaraton.
Here are a set of pots that can be used to cook the various amount of sweet Potatoes depending on your family size and need for the vegetable. I used the smallest one when cooking for myself alone.
However, I found it an important effort to buy the full pot set. If you will notice the set of five pots with cover, is all stainless steel. Made for cooking the different amount of food.
In several studies from Africa, sweet potatoes were found to contain between one hundred to one thousand six hundred micrograms (RAE) of vitamin A in every 3.5 ounces, an average enough to meet over ninety percent of vitamin A needs from this single food.
Sweet Potato Nutrition Facts
Sweet Potatoes contain a high amount of nutrients. Such as fiber Vitamin A and C, Manganese and many other vitamin and minerals. A study has shown that one medium size Sweet Potato contains all of the following:
103 calories
23.6 grams carbohydrates
2,3 grams protein
0.2-grams fat
3.8 grams of dietary fiber
21.907 International units Vitamin A (438 percent DV}
22.3-milligram Vitamin C (37 percent DV)
0.6-milligram manganese (28 percent DV)
What Is Sweet Potato?
Sweet Potato is a Root Vegetable, a dicotyledonous plant that belongs to the Morning Glory or Bindweed family It is a large, Starchy, sweet-tasting tuberous root vegetable. The young shoots or leaves are eaten as Greens.
Here are some facts about Sweet Potato and its contents:
Sodium 55 mg                                                                  2%
Potassium 337 mg                                                            9%
Carbohydrate 20 g                                                             6%
Dietary Fibre    3 g                                                             12%
Sugar           4 . 2 g
Protein          1 . 6 g                                                            3%
Vitamin A     283 %    Vitamin C                                          4%
Calcium            3%     Iron                                                   3%
Vitamin B-6     10%    Magnesium                                        6%
If you are on a 2000 Calorie diet Depending on your body's daily need your daily values may be lower or higher
Some Health Benefits Of Sweet Potatoes
Sweet Potatoes are a rich source of fiber as so it contains a number of Vitamins and Minerals including Selenium, Iron, Calcium Potatoes are a good source of vitamin B and Vitamin C.
One of the key Nutritional benefits of Sweet Potato is that they are high in an antioxidant known as beta-carotene.
Sweet Potato with their delicate sugary flesh, is a healthy way to satisfy the craving for Carb. Sweet Potatoes are a moderate source of calorie that contains healthy carbs.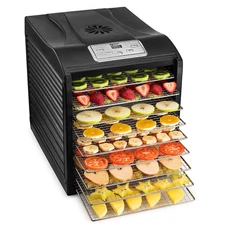 You can store your ground foods here, keep your vegetable flour safe until ready to use.
Like fibre that help you lose weight, You might want to choose a sweet Potato diet occasionally above every day eating. I would not advise you to make Sweet Potatoes your only vegetable for a day.
You could add plenty of green vegetables such as broccoli, green beans, or peas, and other greens which are low in carb and calories. Sweet Potatoes are packed with nutrients and it is of a sweet flavour.
Sweet Potatoes are among the most versatile and healthy vegetables available. They are full of disease preventing, immune boosting, cancer-fighting benefits.
Sweet Potatoes can be used in place of more fattening foods to lessen calories in your meals.
Because Sweet Potato is versatile it can replace the starchy protein of any meal as it is low in calorie. It is dense in nutrient making it a good substitute for Posta and Rice dishes.
Sweet Potato Fries
This Hot Plate Toaster Oven is an ideal machine to speed up your cooking in slow motion. You might want to boil some of your sweet potatoes in a pot on your Hot Plate, while you are Baking up a sweet potato pudding inside of your Toaster Oven. How convenient and affordable?
Although Sweet Potatoes contain about 15 grams more carbohydrates per serving than some other foods, that is not enough reason for you not to consume the vegetable.
Should in case you never knew. Sweet Potato is cooked in many different ways all of which make nutritious delicious meals. Some of the ways in which Sweet Potato is cooked is as follows:
Baked sweet potatoes as is as well as with some additions in ingredients Sweet Potatoes make one of the tastiest, nutritious, delicious Pudding you could ever want to eat.
Yes, it does. again, Sweet Potato dry and ground into flour makes the most delicious mouth watering Pank cake ever. Sweet Potato makes fries, Roasted Sweet Potatoes on fire Charcoal is delicious.
Sweet Potatoes can also cook nutritious delicious porridge. If you are one who is interested in adding some inches to your butt you should add sweet Potatoes to your calorie dense meals.
which will help you to gain some weight on your butt while you are doing the correct butt workout for the purpose of gaining inches to your butt.
You should not gain any weight because you eat Sweet Potatoes, Like any other foods unless you are eating excess with the workout to help you to gain weight in
The certain area of your body. Sweet Potatoes do have much Sugar, however, they are considered low in Glycemic compared to white Potatoes which is considered High. If you bake or roast your sweet Potato it will help you to meet your body's nutrients needs.
Can Consuming Too Many Sweet Potatoes Be Bad For You?
Sweet Potatoes are high in Potassium, Fibre, Vitamin B-6, vitamin A, and vitamin C. According to research. While there is no health issue associated with eating Sweet Potatoes they are high in vitamin A which the body stores.
Therefore, like any other food that you eat you should eat Sweet Potatoes moderate. Even when we know that Sweet Potatoes are packed with nutrients such as copper, fibre, and carotenoids, Vitamin A that is found in Fruits an vegetables.
No one can live healthy eating Sweet Potatoes alone. To fulfil balanced nutrition all foods must be included in the diet. Sweet Potatoes are more nutritious food.
Sweet Potatoes have a higher concentration of most Nutrients and fibre than some other food. One cup of uncooked sweet potatoes contains over one hundred and twelve calorie.
twenty-seven carbohydrate, six grams sugar, and two grams protein. This is the puzzle for many people, how sweet Potatoes are known for being extraordinary healthy when they are packed with all these many nutrients.
Depending on what method of cooking you choose to use to cook your sweet potatoes. If you are going to stove top cooking in a pot Remember to remove the skin first before sweet potatoes are submerge into boiling water.
slow cook for about twenty to twenty-five minutes and you are good. Sweet Potatoes like many other vegetables is of any variety that has sub names. Sweet Potatoes are in many colours. Such as yellow, purple. white pink, violet, and tangerine. As I remembered.
KKmoon Electric Grain Spice Cereals Coffee Dry Food Mill Grinding Machine Gristmill Home Power Crusher Grinder.
It has the advantage of beautiful appearances, lightweight, can move freely, and has the advantage of simple operation, no vibration, low noise, both electricity and security and other characteristics.
This super high-speed motor as the driving force, the latest and anti-locking blade, the main blade lengthened, more thoroughly crushed, medicinal power fitness.
Grinding speed, grinding time of traditional Chines Medicine is generally not more than 3 minutes, breaking time less than 3 seconds, the timing switch can set the grinding time, grinding complete automatic shutdown, use more convenient.
Clean sanitation, work laid the dust, using food grade silicone seals, crushing material without loss, crushing chamber adopts food grade stainless steel drawing process, wall using high gloss polishing technology, smooth and easy to clean, crushing different drugs never string colour and odour, grinding grooves and blades are made of stainless steel, meet avoid iron in many Chines herbs requirements.
Is Sweet Potatoes Good For Diabetics?
Fifty-three per cent of carbohydrates is commonly known as starch. Which is the main component of complex carbohydrates Simple sugars such as fructose, glucose, sucrose, and maltose add another thirty-two per cent of carb to its content?
Sweet Potatoes have a medium to high glycemic index, from forty-four to ninety-six. The glycemic index is a measure of how fast the blood sugar levels rise after a meal.
Given the high glycemic index of sweet potatoes, large amounts in one single meal should be avoided by diabetics. It is also advisable to Diabetics to boil sweet potatoes above baking, roasting, and frying the vegetable.
The starch proportions in sweet Potatoes are rapidly digested starch. (80%) that is quickly broken down and absorbed, increasing the glycemic index value. There is a 9% slowly digested starch which breaks down slowly that causes a smaller rise in the blood sugar levels.
There is a twelve per cent resistant Starch that escapes digestion and acts like fibre and feeds the bacteria in the gut. The amount of resistant starch may increase when cooling the sweet potatoes after cooking.
 Fibre Content.

I used this mill to grind as many dried foods that I enjoyed eating. Dry Sweet Potatoes is among the collection of foods that I dry and grind in this mill. I use the flour of each vegetable in many ways. You should buy one of this mill, It could even be used in your business.
Buy it today
Cooked sweet potatoes are high in fiber, a medium size sweet potato contain 3.8 grams. The fiber in cooked sweet potato is both soluble that is (15 – 23 %) in the form of pectin, and insoluble (77 – 85%) in the form of cellulose, hemicellulose, and lignin (12, 13, 14).
Soluble fibers, such as pectin, may increase satiety, decrease food intake and reduce blood sugar spikes by slowing down the digestion of sugars and starches (15, 16). Insoluble fibers have been associated with health benefits, such as the reduced risk of diabetes (17, 18, 19) and improved gut health (20,21)
Final Verdict # 1
Sweet Potatoes are mainly composed of carbs. Most of the carbs come from starch, however, sweet potatoes contain a good amount of fiber.
Protein In Sweet Potatoes
A medium-size sweet potato contains two grams of protein, which is low. There are unique protein in sweet Potatoes, called sporamins, that account for more than (80%) Of the total proteins(14).
The sporamins are produced in the potato whenever the plant is subjected to physical damage, to facilitate healing. recent research suggests that these proteins may have antioxidant properties (22).  despite being relatively low in protein sweet potatoes are an important protein source in many developing countries (14, 23).
Final verdict # 2
Sweet potatoes are very low in protein but are still an important protein source in many developing countries. Since you are on the page until now you may as well take some action. Please share your knowledge and experience in the comment section below I will respond to you. Thanks much