Nutrition and Health Benefits of Guinea Hen Weed
                                    Nutrition and Health Benefits of Guinea Hen Weed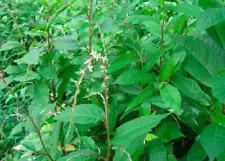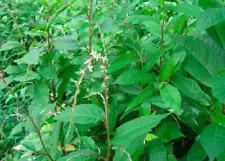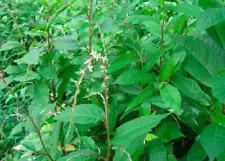 Before I delve into the health benefits of the Guinea Hen plant, I must let you know that with the Slave-trade Guinea hen had migrated from Africa to the Land of Sunshine Wood and Water: Jamaica!
Guinea hen has Weed has been known by many names throughout the countries where it inhabits. It is called Gully Root, Infection Bush, Anamu, Garlic Weed, Miracle Plant, and the Scientific name, Petiveria Alliaceae.
Among many powerful healing herbs that are common in Jamaica and the Caribbean is the Guinea Hen Weed. Strange enough, although the Gully Root is as old as Slavery in Jamaica, there are many Jamaican Who does not know the weed.
However, many know the Guinea Hen Weed and have derived many benefits from the weed from childhood up to adult. Because the plant is common in green lands, those who know the plant use it as cold reliever whenever they get the common cold or the flu.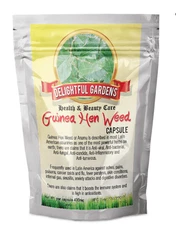 Some people used the Guinea Hen to relieve them of their joint and back pain. Miracle Bush is capable of inducing abortion. Therefore, pregnant women are advised to stay clear of the weed. An investigation released from a laboratory shows that Guinea Hen Weed shrinks the growth of many strains of Leukemia and Cancer Cells.
How Does Amasu work against Cancer?
There are many phytochemicals found in Amasu such as astilbin and dibenzyl trisulphide. These have documented to kill cancer cells directly.  Research shows that compounds in Amasu were able to differentiate between Cancer cells and healthy cells. They kill only Cancer Cells. There are some other substances in Anomia that stimulates the body's natural defence.
Guinea Hen stimulates the immune system
There are resistant stimulant properties in the plant that stimulates the immune system to increase its production of lymphocytes and natural killer cells with dominant disease destroying cells while increasing the production of interferon and interleukins substances naturally produced by the immune system in fighting cancer and infection.
Read more a Nutrition to Kill Cancer here
Guinea Hen Relieves Pain Traditionally, the plant is used as a remedy for rheumatism, and arthritis and has been validated by Clinical research that confirms its pain relieving and anti-inflammatory effects.
Some Swedish researchers have demonstrated COX-1 inhibitory properties cyclooxygenase-1 inhibitors are a new class of popular and profitable arthritis drugs the extract of Amasu have been found to relieve pain and inflammation even when applied topically to the skin.
Guinea Hen Lowers High Blood Sugar
Although much research has not to be done on Guinea Hen for diabetes, it had been documented to lower high blood sugar levels by over sixty per cent. The finding reflects herbal practice. By some herbal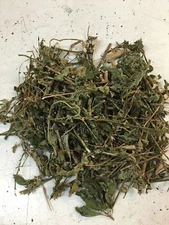 medical practitioners in Cuba where Guinea Hen has been used to lower Diabetes levels for many years.
Contraction of the Uterus
The use of Amasu caused contraction of the uterus that is strong enough to induce miscarriage; this is a clear indication that Pregnant women should not ingest the herb in any way.
Guinea Hen also contains coumadin, which is a low concentration of blood thinner. Thus, patients with haemophilia and those taking blood thinner should not ingest Guinea Hen before consulting with their health care Practioner.
Direction for Use
Many Jamaicans who had Breast and Prostate Cancer have to experience the healing ability of the fantastic Cancer Curing Miracle Weed. Like many other Jamaican herbs, Guinea Hen is a reliable Cure for Cancer among many other illnesses. Guinea Hen is optimal Nutrition.
Always remember that the body that needs to detoxify can be at significant health risk, taking Guinea Hen or any other herb will not pacify for an under-detox body.
The Guinea Hen Weed
The Guinea Hen Weed grows wild in many green spaces in Jamaica and the Caribbean. It is often cleared away by de- bushing, especially when it grows along the edge of the driveway and inside the yard.
In many instances because some folks do not know the weed nor the benefits it holds, it is often treated as some wild bush mostly because of its unpleasant smell, people want to stop its growth and existence.
Although many people are yet to know the Guinea Hen plant, it has become the subject of many significant scientific medical research. I have learned that the Guinea Hen plant is indigenous to Africa, the Caribbean, South and Central America, and the Amazon Rain Forest.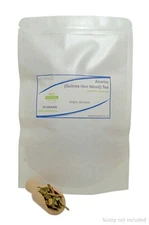 The weed is called by many names; however, its medicinal properties remains the same. The Infection Buis filled with medicinal properties that fight infection while at the same time, Strengthens the fighting ability of the immune system.
Medical Practitioners all over the globe have identified Guinea Hen Weed among the exciting and valuable medicinal plants in the world. Because of its anticarcinogenic properties.
(it kills the dreaded Cancer Cells) Men with prostate cancer have been drinking Green Juice, and tea made from the Guinea Hen plant and have seen results. The Poly trisulfides in the Guinea Hen plant hinder the growth of cancer cells.
These are properties that inhabit the protein "kinase" that is in cancer cells, causing the cancer cells to spread throughout the body. Guinea Hen Weed offers many more health benefits, including the lowering of blood sugar levels as well as the repairing of digestive disorders.
Guinea Hen plant also reduces nausea and relieve pain. Miracle Weed prevents degeneration and fights against infections. It also turns back Arthritis and prevalent viruses. The Weed clears the fallopian tubes among many other benefits.  Read More Here
Even before the cancer-fighting properties of the Guinea Hen plant was known widely in some countries, it was known to boast an extensive catalogue of some other health benefits.
According to one nutritionist Chloe-Faith Perez. Guinea Hen Weed is used throughout South America and Jamaica because of its many health benefits.
It has been proven to be effective against harmful organisms such as bacteria, fungi, and viruses.  It is rich in Said Perez.
Some of the other benefits include: it is rich in antioxidants, and is used as a treatment for respiratory conditions.
Guinea Hen Weed is effective in reducing fever; it has antispasmodic properties. Guinea Hen Weed Stimulates proper digestion and relieves digestive problems such as bloating and flatulence.
It fights infections and stimulates the immune system. Gully root promotes the release of toxins through increased sweat urine production.
Guinea Hen weed is also a natural insect repellent. I am Dorcas. I would love to hear your thoughts. Please leave them in the comment section below.